So the Giants inexplicably scored like a bazillion runs yesterday during the double-header, and then predictably had nothing left for Tim in tonight's game.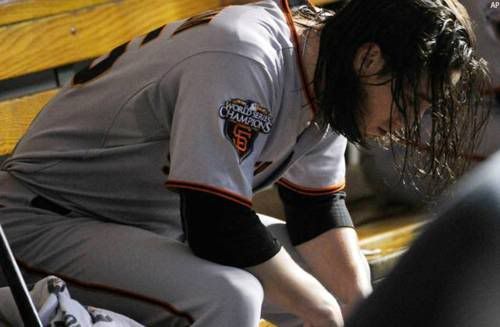 That's a lot of traumadrama for a boy who pitched so magnificently.
( But they did manage to get him at the loveliest angle during his postgame interview. )
Tomorrow evening I'm off to Portland for the holiday weekend. Food. Wine. Country fields. City skyscrapers. Tim & Ed. Temps 40 degrees cooler. (We're going to eat outside. And I packed ~sweaters~!)
I can't wait <3
Oh, and. Today I purchased tickets to see Lil Wayne again. August 24th at the newly-christened Ashley Furniture HomeStore Pavilion. Rolls right off the tongue, doesn't it? Anyway, it should be hot and monsoon-ish and we'll be on the lawn this time, so I expect all manner of shenanigans. Can't wait for that either.